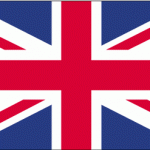 Suryaproject focuses on the support of local partners in the conservation and development of the social structure in countries around the Carpathians through the collection and donation of goods and the spot providing advice and intangible support.
Surya originated in Nijmegen (The Netherlands) late 2009 as a small initiative after visiting the Neeka foundation in Hungary and Ukraine. The visit was initiated by a representative of the PortAgora Foundation in Tilburg.
The grinding poverty in the whole area, the precarious situation of refugees and asylum seekers and the difficult conditions of the Roma made such an impression that they were merged into what is now known as Suryaproject.
Gradually, the cooperation professionalized and now it can be said that Suryaproject in recent years has able to prove its right to exist. At various places in this site you can come to your own conclusions.
Suryaproject works since the beginning closely with the foundation Neeka which has a representation in Hungary, Romania and Ukraine. She also works with many volunteers and organizations.
Neeka
Neeka focuses on assisting the sick, the disabled, the elderly, refugees, asylum seekers. And also support the integration of the Roma minority in the region. They do this by contributing to the protection of health, the promotion of healthy lifestyles, providing financial and social support and the establishment and support of education and educational programs for youth. Neeka has a national and international character.
Neeka means in English: International Life and Environmental Health Foundation.
No cultural interference
Surya helps Neeka and where possible, other foundations and organizations. In this way the local culture is not affected by Suryaproject because the local workers determine what and how things happen. What Suryaproject collect is in most cases at the request of the local organizations and in almost all cases after consultation. It is therefore strongly demand-driven and there is no question of offering perhaps unwanted goods. An additional guarantee is that whenever the people of Neeka come to Nijmegen to the trucks loaded. Only what they want to use it goes along.
Nieuws:
De Basis in Doorn – mei '14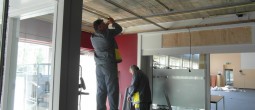 In Doorn is het Veteranen Instituut gevestigd in een heel fraaie nieuwbouw: De Basis. In eerste instantie mochten we uit de oudbouw het losse meubilair ophalen. … Lees meer
Van Druten naar Koltó: een school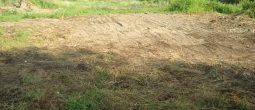 Eindelijk is het zover. In Koltó – Roemenië – wordt een nieuwe kleuterschool gebouwd met de materialen van de School die we eind 2014 in … Lees meer
Transport # 5 en Slecht nieuws!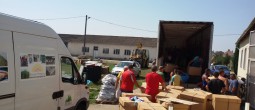 Transport nummer vijf is een feit. Twee dagen hebben we met elkaar gezwoegd om onze opslag leeg te maken. Het gebouw wordt namelijk binnenkort gesloopt. … Lees meer